Törölölö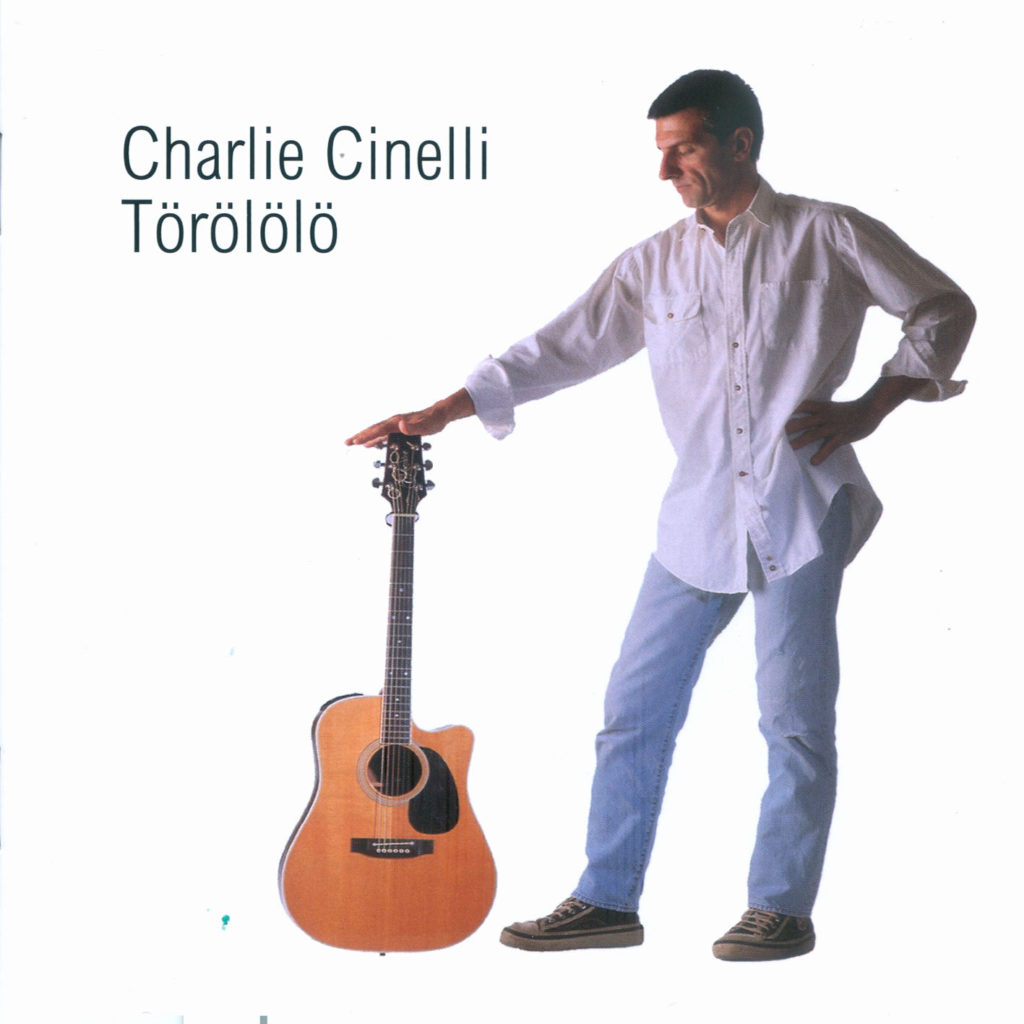 ITALIANO
Avevo già scritto canzoni in dialetto per il trio dei Charlie and the Cats, a volte l'avevo mescolato all'inglese, a volte all'italiano e quasi sempre per testi ironici o addirittura demenziali… e la finalità era sempre e solo divertirsi e suonare quello che ci veniva in mente, spesso improvvisando. Sentivo l'esigenza di un suono diverso, di chitarre acustiche, fisarmonica e violino Nel cassetto avevo nastri di provini, demo, idee registrate durante i miei viaggi e un giorno ho deciso di tirarle fuori per provare a comporre delle canzoni usando le poesie e i testi che avevo continuato a scrivere negli anni precedenti Così che è nato "Törölölö", una svolta importante per me. Avevo deciso di dare a queste canzoni un suono acustico, più adatto a rivestire brani come La Mèla o Paés.
ENGLISH
I had already written songs in dialect for the Charlie and the Cats trio, sometimes I had mixed it with English, sometimes with Italian and almost always for ironic or even zany lyrics … and the aim was always and only to have fun and play what came to mind, often improvising I felt the need for a different sound, for acoustic guitars, accordion and violin In the drawer I had tapes of auditions, demos, ideas recorded during my travels and one day I decided to take them out to try to compose songs using the poems and lyrics that I had continued to write in previous years Thus was born "Törölölö", an important turning point for me I had decided to give these songs an acoustic sound, more suitable for playing songs like La Mèla or Paés.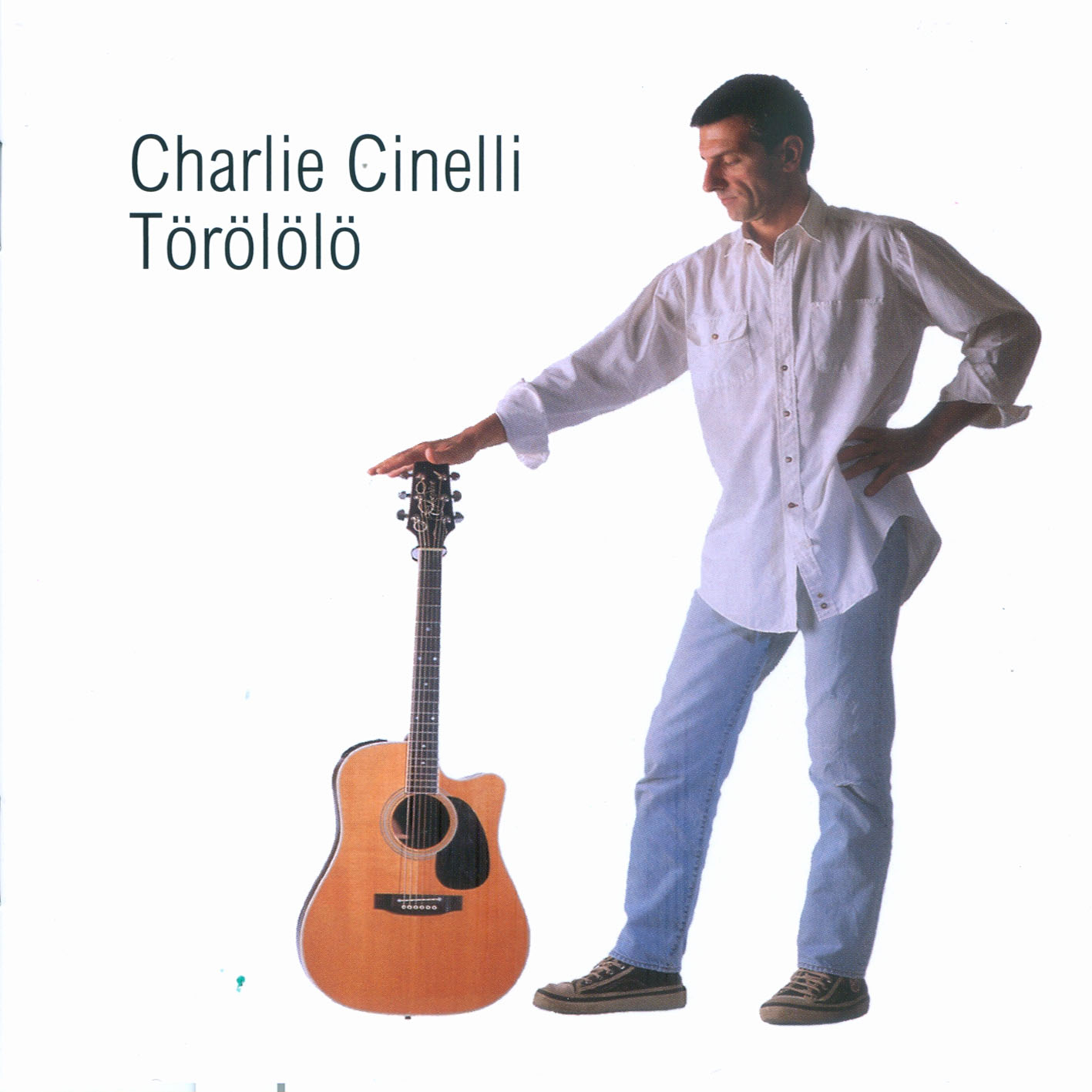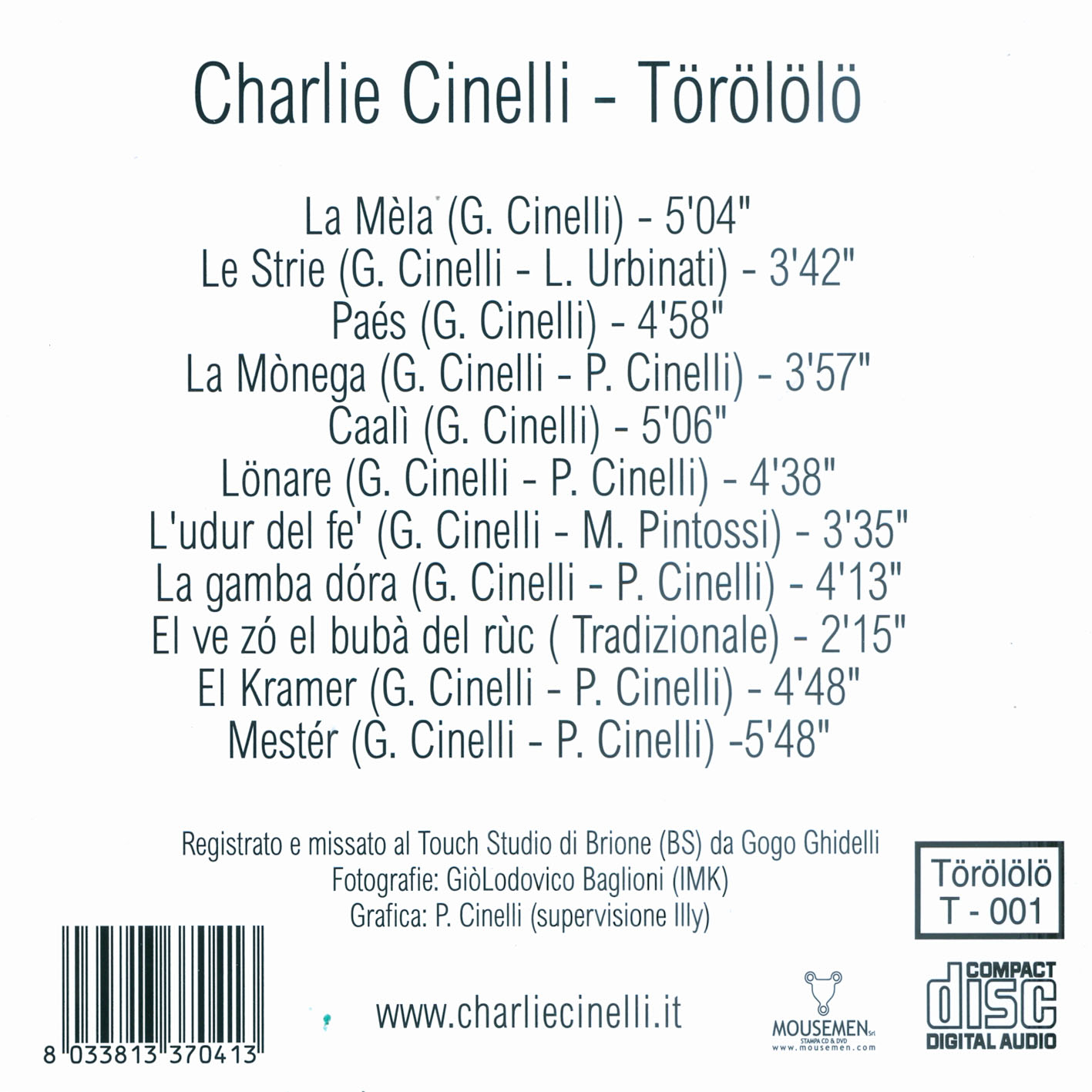 Ècoga ché bèi polsadés, sintàcc zó 'ntùren ala tàola,
'na bèla compagnia che làssa mai 'ndré gna' 'na mìgola
Perchè en s'è mia nasìcc apéna per laorà,
ghe öl pò ìga botép, maià, béer e cantà
Però cantà l'è düra se de pàpa ghe n'è póca,
che 'nfinamài le gambe la ia fa nà la bóca
Èco perchè 'n s'è töcc del parere del Galilei,
la polenta piö l'è ónta e piö l'è mèi
Come la Mèla che va, töcc en se ambia a cantà
Certo che 'na ólta se paciàa mia sicür come adès,
i piö tàncc i maiàa de màgher en pó piö spès
E quand che nóni e nóne i restàa sènsa i püdìa apéna
tacà béga con la credènsa
Per mia parlà de chèi che i éra alpini söle Alpi, i düzìa
'ncontentàs de pà e culpi
E adès che 'n compagnia sóm mia certo dei petòc
lecóm la bàsgia quand che gh'è finìt i gnòc
Come la Mèla che va, töcc en se àmbia a cantà.
Che con la Mèla, chissà, la belegòrnia la passarà
Amaròcc, ciüine, dùrcc, recè, sbessècc, reatì e stilì,
conécc, custìne, sàlvia, patate e mumbulì
El spiét l'è bèl mustùs, gh'è l'Aldo che ghe àrda,
l'è da le sèt che 'l viàgia de botér e de lecàrda
Prepara 'l consadì, gh'è chi che 'l ghe piàs fés,
trà fò quàc tòc de pà, pò a se l'è staladés
Se argü g'hà i scalmanì o ghe vé i baligurdù,
ghe tiraróm el còl a 'n óter butigliù
(ritornello)
Caóm la moscaröla, ardóm se i'è amò bù,
tastóm en tòc de tara e 'n po' de strachitù
Pensómega 'ré ai nóni che gh'éra nisü vésse,
la séra nèle stàle coi pè nèle boàsse
E metóm sö la cógoma entàt che i tóncc i viàgia
e tira fò le chìchere e pórta 'n sà la grègia
E pòsta söla stüa le scórse del portogàl
e 'mpisa pò la pipa per 'na ólta la fà mia màl
Che fét lé de föra, madóra che póra, l'è l'ùra piö scüra
L'è adès che le strìe le squassa la cùa, le và dré ale rìe a caàl dela scùa
Le strìe che strìa, la mèlga el melgàs, le ùla zó bàs
Le và 'n fónt a l'órt, co' le öngie le scàa, 'na gràpa de mórt che grègna e che sbàa
Le sàlta e le bàla e pròpe con chèla, ma g'hó de cüntàla
Le fa 'na rödèla, le züga ala bàla
Le sbüza co' l'ùcia tre gósse de sànc, le bór, le sè pùcia, le trìnca e le ciücia
E pò mèze ciòche le sguassa nel fànc, le crìda, le lücia, le rìt e le piàns
Le röma 'na rima e pò la piö grìma la lima 'na lama
Le sfrónza le ràme, le 'mpìssa en gran föc, le rèma coi bràs nel föm dele fiàme
Le sgàrgia 'n dön sòc con fùrca e bernàs, e strèssega e bràza, le ùla per casa
E pò col möstàss töt ströt a sò möt le pàssa al sedàss farina de òs
Al föm dela löm le 'mpàsta l'empiöm, le càssa en pegnàta gregnàpole e ròsp
E fóns che 'nveléna, le gira e le ména e co' la saàta le mèssia sö 'l ròst
(strumentale)
Le strèpa le stròpe 'mbrombàde de lüna, le strèns coi strigòss el pütì 'n dèla cüna
Ghét vést chèl gàt négher? Gh'è póc de stà alégher, l'è 'l diàol en persùna che 'l
gira per ca'. Le dùdes le sùna, che póra bubà…
(strumentale
Paés, sarèze madüre e mandorle amare, maréne e ambrognàghe e furmintù
Paés, le corse co' l'àzen, en cà culùr rözen,
sotàne de èce, tiràde de orècie e orassiù
Paés, le guère de bande, cazonsèi söle gambe, per via dèle fiónde e dei casutì
Paés, udùr dè minèstra, suore ala balaöstra, incèns che cunsa i mé pensér
Paés, g'hà dìt giü e giöna, le prime domande,
le gnàre piö grande, spià le mödande en processiù
Paés, la piàssa, la césa, le sórghe e le spórte i è càrghe el dé del mercàt
Nel paés, nel paés,
Nel paés
Paés, finìda la scöla, tacàcc ala möla, partide de bàla e acqua ai fontanì
Nel paés ta tignìe la mà, té ta ülìet mia,
ma i öcc i starlüzìa, fàem cönt de mai dientà ècc
Paés, le sére e le bàle, ridìde e matàde coi sòci ulàcc en ciél amò scècc
(ritornello)
Paés, udùr de ledàm, el föm dèle züte, postàcc nèla bréda a zügà a barbanzèc
Paés, l'è tàrde e sóta la lüna pàsa el carèt, éde la nóna col bigaröl
Paés, ma sa 'ndormènte che 'n piàssa, la banda la sùna pròpe chèla cansù ché
(ritornello sfumando)
Sìrem sóta Nedàl, en Giöedé o 'n Venerdé,
coi Todèsc che giràa töt entùren al paés
Fàa frèt, gh'ìa zà scür, mé sìe 'ré a 'mpissà 'l föc,
la mé fómna, tat per cambià l'éra dré a uzà per vergót
So mia sicür, ma 'n mès al casì g'ho sintìt a ciocà
Lé de föra gh'ìa 'n fra' empinüt 'n mès ala néf
cola tònega lisa, el parlàa en po' forestér
"Ignìf déter che fa frèt, sintìf zó lé 'n banda al föc;
sìre 'ré a fa 'l ministrù, bèl scotét el ve mèt a pòst töt
Entàt che spitìf en bèl caliciòto el ve scalda zó bé
Sènsa gnanche segnàs lü 'l g'hà sbafàt fò töt,
l'ìra 'ré a ringrassiàm quànd che 'l g'hà cassàt fò i öcc
Gh'è ignìt déter tre Todèsc, el pòer Cristo l'è deentàt töt biànc,
el g'hà dìt che 'l ghéra sòn entàt che 'l compàgne hö dré ale scàle ga dìze:
"Rìe sübit, va pórte la mònega per scaldà 'l lèt"
El m'ha ardàt come 'n màt e l'è scapàt en sima ala scàla
e pò con d'en saltù el g'ha fàt fò el finistrù
Só curìt sö, g'ho ardàt zó, lìa finìt zó en mès al ledàm zó
el g'haa tiràt zó dù bèi purcù e pò via de corsa con de dré el mé cà
tacàt ala tònega e lü co' la borsa a picàga söl có
En sò zio 'l l'ha troàt el dé dopo en banda al stradù,
el mé cà 'l lìa salvàt, el gh'ìa scaldàt i pè e le mà
L'ìa 'n tenènt dèle Puglie scapàt del campo de concentramènt,
La sò fómna e i sò parécc i pianzìa de tàt che i'era contécc,
El dìs: "Gh'i' mia en òs de dàga a chèl cà che stanòt m'ha salvàt?"
Quand che 'l g'ha cöntàt sö dèla mònega per scaldà 'l lèt
i ga'n fa véder giöna che 'l dopràa anche el prét
I è dèle mòneghe en po' speciài che le préga pròpe mai,
le te scàlda come nessöne e le rèsta sèmper bùne
E se sóm al mónt ön po' de mèret el ghe và a pò àc a lùre
Gh'è riàt chèi de Sunìc, pésa i póm e pésa i fic,
Miùra de sarà i ucì, fa' la nàna picinì
Sóta el ciél pié de stèle, tutusèla tutusèle
Fóm 'na córsa mé e té sùra i pràcc e 'n mès al fé,
Micoróm zó 'n fónt ala àl fina a che gh'è nàt zó 'l sùl
Fa' la nàna, fa' 'n bel sògn che la tò mama la n'ha bizògn.
Mé picinì, mé balerì, e-he mé trafighì, el mé caalì
Fa' la nàna, fa' le ò, che dumà ta portaró
col biròcc a scavresà e 'n dindòca a dindulà.
Nela nàna mé te nine a belàze a belazìne.
Picinì ta ghét capìt chèl che mé ülìe dìt,
gh'è amò argót de domandà, però sàlvel per dumà
Te faró pasà le póre, caalì en caalóre.
(ritornello)
En bèl dé che 'l vegnarà pò a' 'l tò gnàro 'l pianzarà,
e té càntega per mé chèla nina nana ché
Nel cantà ta sentarét nel tò cör 'na pàrt de mé.
Zenér el fà i póncc e Febrér el ia rómp, g'ha frèt a' pò i sàncc, a parlà se fa 'l föm
Febrér l'è pö cürt, ma l'è pègio de 'n Türc, sa zéla pò l'àiva del paciüc
Sa slónga Zenér nei dé dela mèrla, de lègna söl föc ga 'n völ öna zèrla
L'è mia bù Zenér se no 'l zenerèza el pèta Febrér 'na gran scorèza
Mars matarèl, en dé bröt, en dé bèl, se 'l g'ha sìc venerdé el sarà bröt töcc i dé
A Mars le umbrilìne, Avrìl le güsmìne, ma fina ala fì té sö 'l capèl
Se Mars l'è söt, Avrìl l'è del töt, la brina de Avrìl la 'mpenés el barìl
Se 'l ghe n'ès trentü farès mal a nisü, böta 'nfìna 'l mànec del badìl
A Màgio i unùr se gh'è stàcc i fiùr de töcc i culùr sa sènt pò i saùr
Se Màgio l'è söt sa pöl fa de töt, per nà zó 'n del órt ta né 'n pinüt
A Zögn la calüra la spiga madüra, le ache en altüra l'istàt l'è sigüra
San Piero e San Pàol, tignì lontà 'l diàol che se 'l fa bèl portóm fò 'l tàol
El pìca zó en Löi, el fà pò a' per dù, sa sènt nei boscài a cantà i rapatù
El dé de Sant'Ana, el canù söla cana, l'è dólsa l'angüria co' la grana
Sapàde de Agóst l'è sèmper töt móst, marènda nel bósc e de vì apéna en gós
Apèna zó 'l sul ambia la cagnoléra e come töcc i dé ve séra
Nel rià Setèmber le pàrt le rondéne, sa cata zó l'ùa, sa 'mpenés le cantine
Se 'l piöf a la crùs sa sbüza la nùs e pò i' è quaranta de piüùs
Utùer cucùer, castègne a fà bòer, i gnari söi banc a lèzer e a scrìer
A Santa Teresa sarlóde a distesa, sa parla de spiét fò de – la césa
Cröda Noèmber le zornàde i' è gàmber, i' è za mò 'n dela stàla le ache de smónzer
Co' la calabròza el nóno l'è 'n giànde, uga nel bröt le merecónde
Santa Lüssìa, la pö lónga che gh'ia, la pórta de töt pò a' la prima falìa
Nedàl e l'ültim, söl föc g'ho le sòche, se 'l völ fiocà, lassa che 'l fiòche
Ùltela, pìrlela, àrdela bé, la vita l'è pròpe 'na bala de fé
Ta 'n fét de südàde, de córse 'n del pràt, encö farà 'l bèl, dumà farà 'l màt
Quàrcel, desquàrcel, pò dàga 'na ultàda, ta rìet a séra che ta sét de panàda
Chèla braca de fé che ta mètet a tèt la vàl compàgn de l'ór
o de 'na fómna 'n del lèt
Issé l'è la vita se te la pìrlet col cör, samarà per vergóta che 'l gàpe culùr
Finida la bala te rèsta l'udùr
Ùltela, pìrlela, pò àrdela bé, la vita l'è pròpe 'na bala de fé
Ta 'n fét de südàde, de córse 'n del pràt, encö farà 'l bèl, dumà farà 'l màt
Isé l'è la vita se te la pìrlet col cör, samarà per vergóta che 'l gàpe culùr
Finida la bala te rèsta l'udùr
Gh'èra ''na ólta 'na fatùra con tre fiöle, nel segà l'erba 'na matìna zó 'n del ciós
Che fét, che fàla, cülmartèlega la ranza, e via 'na gamba
Pasàt el mal co' i ór e töte le palanche, en dé la manda le so fiöle zó dal frér
Co' l'urdinansa de culàga zó 'na gamba töta dóra
Ma pròpe quand che la camìna zà pulito, la poarìna la se mala de 'n bröt mal
La ghe comanda a le sò fiöle de sotràla co' la sò gamba
Ma le sò fiöle sübit dopo del mortóre, 'na nòt de lüna, de niscùst al camposànt
Con de 'na vanga e pìc des-ciódega la cassa e via la gamba
Quand che vé séra le se ambia a tacà béga, quand che i' è strache ala fì le cröda zó
Ma a mezanòt le sènt 'na ùs che ga comanda: "Òi la mé gamba!"
Le g'ha mia póra e le söghéta a tacà béga, e tira e pùcia, le fenés nel sgabüssì
L'è pròpe lé che la fatùra la ia müra con la sò gamba
Amò ac adès se te ta pàsset lè isè 'n banda, te sentarét che la borlànda l'è amò 'ré
I' è le tre fiöle che le pestèza amò de onda per chèla gamba
Gh'èra 'na ólta 'na fatùra con tre fiöle, nel segà l'erba 'na matìna zó 'n del ciós
Che fét, che fàla, cülmartèlega la ranza, e via la gamba
El vé zó el bubà del rùc, che gh'ìf fómne de bruntulà
G'ho 'na fiöla de maridà, ma la dota no la ghe l'ha
G'ho 'na fiöla de maridà, ma la dota no la ghe l'ha
Tègne en bò e giöna sìna, mé la sina la endaró
E coi frànc che ciaparó mé la dòta ghe la faró
E coi frànc che ciaparó mé la dòta ghe la faró
E de lè a quìndes dé la spusìna la tùrna 'ndré
Bubà e mama tignìm a ca' che 'n ciàpe de séna e de disnà
Bubà e mama tignìm a ca' che 'n ciàpe de séna e de disnà
Fiöla mia ta l'ho sèmper dìt che no l'éra 'l tò partìt
Té per fórsa ta l'é ülìt, marcia vià col tò marìt
Té per fórsa ta l'é ülìt, marcia vià col tò marìt
Nela àl i ghe dìs el palér, nela àl i ghe dìs el palér
Quand che 'l vé zó 'l Kramer co' le söle de lègn, nela àl i ghe dìs el palér
El palér söle spale 'l g'ha i cài, el palér söle spale 'l g'ha i cài
Che i' è dò le cinte per la sò krama, el palér söle spale 'l g'ha i cài
Ardì sà quàcc artìcoi che 'l g'ha, ardì sà quàcc artìcoi che 'l g'ha
Naftalina e löster, pomate e butù, ardì sà quàcc artìcoi che 'l g'ha
Gh'è 'na fómna che l'è 'ré a mendà, gh'è 'na fómna che l'è 'ré a mendà
Tira fò le ùcie dala sò krama, gh'è 'na fómna che l'è 'ré a mendà
I' è tre dé che g'ho de sbarbàm, i' è tre dé che g'ho de sbarbàm
Gh'è riàt el Kramer co' le lamète, i' è tre dé che g'ho de sbarbàm
Per i öciài ocór mia nà 'n cità, Per i öciài ocór mia nà 'n cità
Ma mé spète 'l kramer che lü l'è pö spèrt, per i öciài ocór mia nà 'n cità
Se te gh'ét vergót de giöstà, se te gh'ét vergót de giöstà
Té domanda al kramer, 'l la giöstarà, se te gh'ét vergót de giöstà
Ai pütì el ghe regala i catù, ai pütì el ghe regala i catù
Se capéss che de s-cècc ga n'ha pò ac a lü, ai pütì el ghe regala i catù
La sò krama 'l la lassa söl öss, la sò krama 'l la lassa söl öss
Lü vizì ala stüa nel'osteria, la sò krama 'l la lassa söl öss
E dopo séna, kramer, dai, cünta sö, e dopo séna, kramer, dai, cünta sö
El sét mia che 'l kramer el parla 'l dialèt, e dopo séna, kramer, dai, cünta sö
E stanòt el dórma nel fé, e stanòt el dórma nel fé
Ma dumà ta 'l vèdet a mèsa alta, e stanòt el dórma nel fé
Nela àl i ghe dìs el palér, nela àl i ghe dìs el palér
Quand che 'l vé zó 'l Kramer co' le söle de lègn, nela àl i ghe dìs el palér
Quand che 'l passàa la zènt la scapàa per via del sàc de ledàm che 'l töfàa
Gh'è amò chi 'l la sérca per netà i polér, ma al dé de 'ncö gh'è mia pö el ledamér
El ciamàa le fomne e come 'l cantàa, 'ncompagnàt dale strésse dei cortèi che 'l mulàa
Cortèi e fùrbes, gh'è amò chi 'l la spèta, ma al dé de 'ncö gh'è mia pö 'l molèta
Chèl che 'l troàa, el crompàa e 'l vindìa en sö 'n de 'n carèt töta la baterìa
Tübi e butiglie, stignàcc e masnì, ma al dé de 'ncö gh'è mia pö 'l strasì
Quand che gh'ia 'l sul nissü ga pensàa, ma apéna 'l püìa l'éra 'l prìm che i ciamàa
Mànec e pónte, bachète e telér, ma al dé de 'ncö gh'è mia pö l'ombrelér
Négher de föm, de calì e de carbù, prima 'ré ai cópp e pò zó nei canù
Brös-ge, sgarnère, spasitù e spasitì, ma al dé de 'ncö gh'è piö 'l spasacamì
Dopo copàt el sànc el cagiàa, ensalamàt nei bödèi che 'l portàa
El la taiàa compàgn del bechér, ma al dé de 'ncö gh'è mia pö 'l sanguanér
Se ala fì del'inverno el stremàs lìa 'n po' fiàc, gh'ìa mia le mòle, ma apéna lana en de 'n sàc
El la dirvìa, el sgargiàa col sò pitinì, ma al dé de 'ncö gh'è mia pö 'l sgarzì
Se nel fà polenta sa sbuzàa el paröl, saltàa via en mànec o sa s-cepàa el türtaröl
Lü 'l la giöstàa en quàter e quatr'òt, ma al dé de 'ncö gh'è pö 'l parolòt
Con de 'na tenca de 'n quintàl söle spale, sö e zó dele scale sensa mai straacàla
El vödàa le cantine sensa tàt rebelòt, al dé de 'ncö gh'è mia pö 'l zerlòt
E l'ültem mestér con en dìt nel patös, a segónt del saùr el te dàa öna ùs
Per la memoria, che no la se pèrde, òi tègner cönt pò del tastamèrde